That's one small step for man,
one giant leap for mankind.™
- Neil Armstrong when stepping onto the moon
CMG Worldwide celebrates Neil Armstrong and his crew on this, the
50th Anniversary of the historic Apollo 11 mission.
NASA - Live: Apollo 11 Anniversary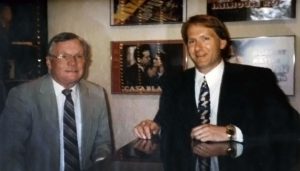 Neil Armstrong & CMG Worldwide
As today marks the 50th Anniversary of Apollo 11, we honor our client Neil Armstrong in making history as the first human ever to walk the moon. After traveling for 76 hours, Apollo 11 entered the orbit of the moon and soon after, Neil took the first step with the whole world watching on television. Throughout Neil's life he has spent a total of two and a half years on the moon studying and collecting samples. We are proud representatives of Armstrong since 2009, and can provide services for any of your licensing needs pertaining to Neil. This anniversary represents a historic moment for our country and mankind! Changing the world in just one step.
Google Doodle
Fifty years ago, NASA's Apollo 11 mission changed our world and ideas of what is possible by successfully landing humans on the surface of the moon⁠—and bringing them home safely⁠—for the first time in history. Today's video Doodle celebrates this moment of human achievement by taking us through the journey to the moon and back, narrated by someone with firsthand knowledge of the epic event: former astronaut and Apollo 11 command module pilot Michael Collins.
Who was Neil Armstrong®?
Neil Armstrong was born in Wapakoneta, Ohio, on August 5, 1930. After serving in the Korean War and then finishing college, he joined the organization that would become NASA. He joined the astronaut program in 1962 and was command pilot for his first mission, Gemini VIII, in 1966. He was spacecraft commander for Apollo 11, the first manned lunar mission, and became the first man to walk on the moon. He died in Cincinnati, Ohio, in 2012.
Licensing
Companies that have used Neil Armstrong in their marketing or branding.